Canon DP-V3120 31" 4K HDR Reference Display
Canon's 31-inch DP-V3120 4K Reference Display was designed to meet the unique set of challenges that come with HDR production. Featuring an incredible peak 2000-nit edge-to-edge luminance and 0.001-nit full screen black level, the DP-V3120 exceeds the requirements for Dolby Vision™ certified facilities. It is an exceptional choice when seeking superb image quality, accuracy and reliability
Panel
Panel Type

IPS LCD panel

Screen Size

31.1" (79cm)

Aspect Ratio

17:9

Resolution

4096 x 2160 (8.8 Megapixels)

Active Display Area

Approx. 27.5 x 14.5" (698.0 x 368.1mm)

Pixel Pitch

132 micro m/193 ppi
Image Quality
Brightness

Standard: 100 cd/sq. m
Peak, full screen white: 2,000 cd/sq. m

Viewing Angle (Up, Down, Left, Right)

89 Degree (contrast ratio 10:1 or higher)

Surface Treatment

Anti-glare coating
Interface: Input
12G/6G/3G/HD/SD- SDI

4 (1 channel) BNC (75 Ohm) receptacle terminal

HDMI

1 (1 channel) Type A terminal
Copy protection: HDCP 2.2
Interface: Output
12G/6G/3G/HD-SDI

4 (1 pass-thru 1 channel)

Headphone

1 stereo mini-jack (supported impedance: 32-64 Ohm)
Interface: Control
USB

1 USB A receptacle terminal
Universal Serial Bus Specification Revision 2.0 compliant
LS (Low Speed)/FS (Full Speed)/HS (High Speed) mode compatible
Enhanced Host Controller Interface Specification for Universal Serial Bus Revision
1.0 compliant

LAN

1 RJ-45 terminal
IEEE802.3 10BASE-TX compliant IEEE802.3u 100BASE-TX compliant

Remote

1 RJ-45 terminal, GPI 8 pin
General
Mounting Hole Pitch

VESA standard 7.9 x 3.9" (200 x 100mm)

Backlight Type

LED, Matrix Array

Power

Rated voltage: 100 - 240 V AC
Rated Frequency: 50/60 Hz

Power Consumption

At maximum load (including change in brightness through aging): Approx. 510 W
At factory shipment: Approx. 180 W

Environmental Conditions

Operating

Temperature and humidity: 41-95 Degree F (5-35 Degree C) (20-85% RH no condensation)
Recommended: 59-86 Degree F (15-30 Degree C) (20-80% RH no condensation)
Pressure: 700-1060 hPa

Storage/Transporting

Temperature and humidity: -4-104 Degree F (-20-40 Degree C) (10-85% RH no condensation)
Recommended: 106-140 Degree F (41-60 Degree C) (10-30% RH no condensation)
Pressure: 700-1060 hPa

Dimensions (W x H x D)

Including handle: Approx. 29 x 19 x 13" (749 x 492 x 335mm)
Display unit only, without protruding parts: Approx. 29 x 19 x 12" (749 x 470 x 295mm)

Weight

Approx. 68 lb (31kg)
Features
31-inch 4K HDR Reference Display

The DP-V3120 is a 31-inch LCD panel capable of resolutions up to 4096 x 2160 pixels in 10-bit color with a peak luminance of 2,000 nits. This panel provides excellent accuracy and color fidelity with edge-to-edge consistency and minimal color shifting.

The state-of-the-art LCD panel in the DP-V3120 provides more stability than other technologies, and is a reliable piece of equipment users can depend on day after day.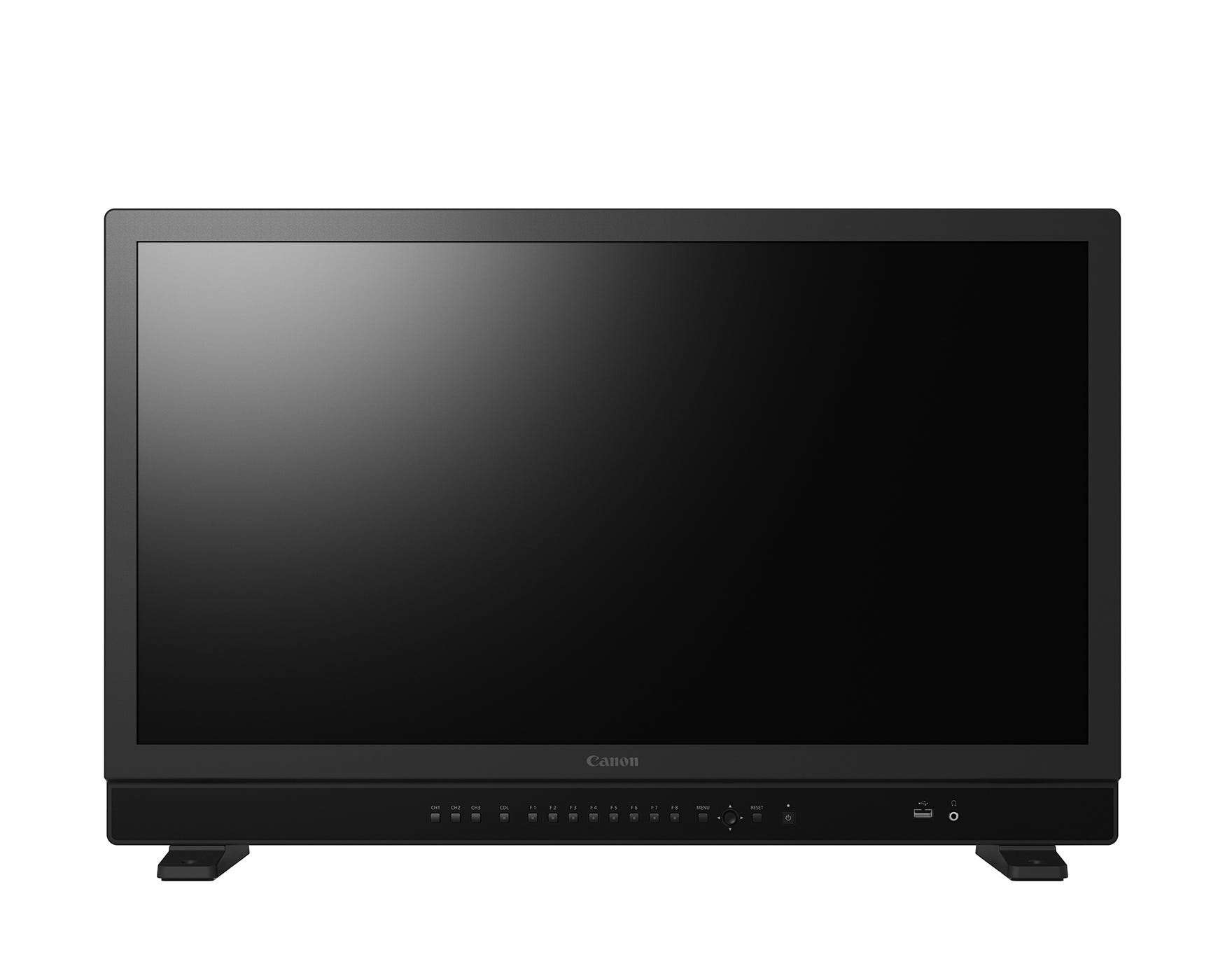 2,000-nit HDR Peak Edge-to-edge Luminance, 0.001-nit Full-screen Black Level (2,000,000:1 Contrast Ratio)

The DP-V3120 4K Reference Display is the first in its class to output an astonishing peak 2,000-nit edge-to-edge brightness while maintaining a 0.001-nit black level. The display's high brightness and ultra-low black level result in a remarkable 2,000,000:1 contrast ratio, making it the ideal choice for imaging professionals who want to ensure accuracy in their HDR deliverables. Bright areas are clearer and more true-to-life with virtually no color-shifting, while shadow detail is maintained without the appearance of being washed out.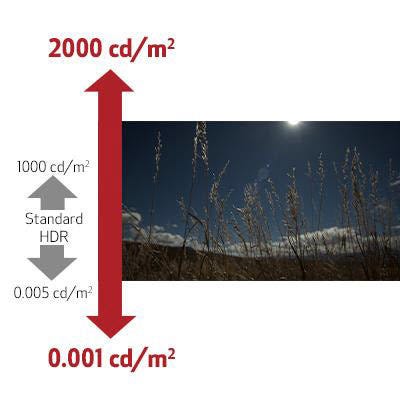 Exceeds the Requirements for Dolby Vision Certified Facilities

The DP-V3120 exceeds the Dolby Vision required monitor specifications† including General Monitor Specifications and Grey Scale Reproduction to meet the requirement of a Dolby Vision certified post-production facility.

† Based on "Dolby Vision Certified Mastering Facilities Colorgrading Systems and Monitors Version 1.2" (published in November 2018) required specifications for video production workflows promoted by Dolby Laboratories, Inc.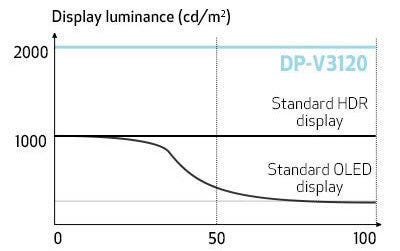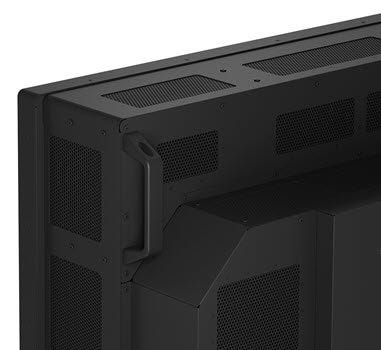 Quiet Operation
The DP-V3120 is constructed with an aluminum frame and fan system that maintains an exceptionally quiet environment. Even when used for long hours in the editing room, users can concentrate on their work without being distracted by fan noise.

When a compatible camera is connected, the display also features a mode in which the internal fan is automatically shut down for a period of time during camera recording. Compatible cameras include the Cinema EOS system.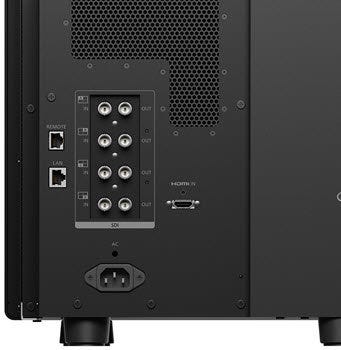 12G-SDI with Support for HD/4K/8K Workflows
The DP-V3120 is equipped with a 12G-SDI interface with four inputs and four pass-through outputs. This interface supports HD, 4K and 8K workflows while limiting the number of cables needed.


Each 12G terminal independently supports signals up to 4K 60P. Alternatively, all four terminals can be combined to accept signals up to 8K 60P.*
*8K signals will be downscaled to 4K
Award-winning HDR Toolkit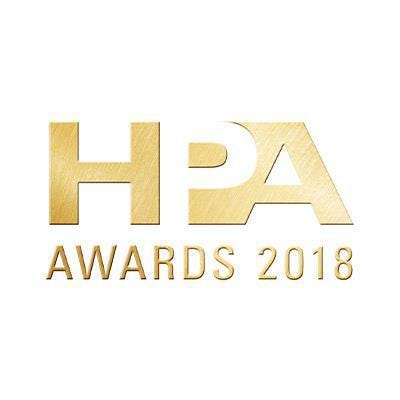 The DP-V3120 comes with Canon's award-winning HDR Toolkit. The HDR Toolkit provides a suite of HDR compatible tools including waveform monitor, vectorscope, histogram, false color, frame luminance monitor, pixel value checker, out of gamut display, overrange detection and side-by-side comparison view.

These tools allow users to evaluate subject luminance and color visually on the screen using numerical values and graphs that show whether or not images are being recorded according their intentions. Users can now confidently make creative decisions based on accurate information using a single display.

The HDR Toolkit was recognized by the Hollywood Professional Association with a 2018 Engineering Excellence Award for going beyond the mere display of HDR and for creating a tool that allows filmmakers to accurately assess their images during production.