You're in a downtown café with a friend when you get a mass email from the assignment desk: a crew is on the way to a breaking news story downtown but they're still miles away, and traffic is at a standstill – is anyone near there?
Fortunately, you have the LIVE+ Mobile App from Dejero on your iPhone so you're ready to spring into action. Instead of the many network connections that are available with a mobile transmitter or news vehicle, your options are limited. While you can rely solely on your cellular connection or Wi-Fi if it is available, the quality is affected by the amount of available bandwidth. So how do you get the best performance? You have more options than what you might think.
The key question to ask yourself is, "Is there another connection I can access?"
1. Bond your smartphone's cellular and Wi-Fi connections
The LIVE+ Mobile App bonds your cellular and Wi-Fi connections together to effectively create a large virtual pipe to send video data to your broadcast facility. So when you arrive at the scene, make sure your cellular and Wi-Fi connections are turned on, and check to see if there's a Wi-Fi connection available to use. Depending on your phone's capabilities and the network conditions, 1080p HD video can be sent at a bitrate up to 9 Mb/s to provide amazing picture quality.
2. Connect to a mobile hotspot device
If you're not in range of a Wi-Fi network, you can still connect to a mobile hotspot device with your Wi-Fi connection. Often called MiFis, portable hotspots or pocket routers, these battery-powered devices allow multiple mobile devices to share a 3G, 4G or LTE mobile broadband Internet connection. Now you have an Internet connection over a cellular network from the portable hotspot device in addition to the cellular connection on your phone.
These are available from cellular carriers with pay-as-you-go plans, monthly plans, or annual contracts. Of course, having a mobile hotspot device requires pre-planning. What if you don't have one with you?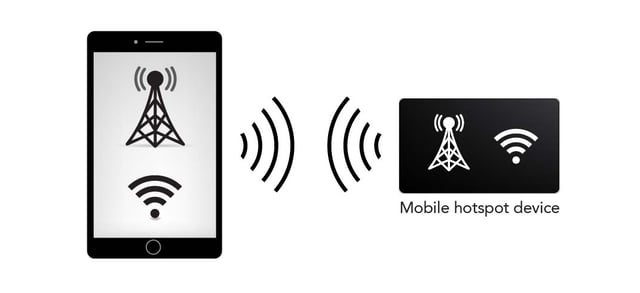 3. Connect to a buddy's smartphone
If your friend from the café is coming with you and has a smartphone, you may be able to set up a Wi-Fi hotspot, sometimes known as "tethering," using the other phone.
Keep in mind that data usage charges will apply to your buddy's plan, but if he's cool with that, you've now got two connections available to send higher quality video—your own connection and your buddy's Internet connection from his cellular provider. This can eat up a lot of battery life, so having a battery case or a portable phone charger is a good idea to carry around with you if you plan to use the hotspot mode frequently.

The ace up your sleeve…
The next time you are on the scene of some breaking news or a live event and all you have is your phone, think about your connectivity options – there may be more available than you might first think.
And if you run out of options, there's always the record button. Okay, so it won't be live, but capturing the breaking news and then sending it as soon as you can get some connectivity still puts you further ahead than waiting for the crew—or worse, someone else's crew—to make it to the scene!
To learn more about our LIVE+ Mobile App or to book a demonstration, head here. It just might make you a breaking news hero.
Will we see you at NAB Show?
Dejero are busily planning for NAB Show 2016 in Las Vegas, and can't wait to see you there. Visit their Exhibitor Page and click the "Add to MyNAB Show" button to make it easy to find Dejero at booth N2918 in the North Hall. While you're there, register using guest pass code LV3355 for free entry into the exhibits.
To see the original blog post from Dejero's Richard McClurg, head here.