Blackmagic Pocket Cinema Camera 4K
£1,099.00 £1,120.98 Inc. Vat (-15%)
Out of Stock - Lead Time 2-3 working days
You Save: £164.85 (15%)
Ultra Portable Design
Carbon fiber reinforced composite body that makes it extremely durable and lightweight
Micro Four Thirds Lens Mount
Record using standard SD cards, UHS-II cards or CFast 2.0 me
This item:
Blackmagic Pocket Cinema Camera 4K
Out of Stock - Lead Time 2-3 working days
£

1,099.00
£

1,120.98
Inc. Vat
(-15%)
£

1,099.00
£

1,120.98
Inc. Vat
(-15%)
Compare
Frequently Bought Together
Blackmagic Pocket Cinema Camera 4K
Portable, Affordable and Professional – Now you can shoot anything in 4K
Blackmagic Pocket Cinema Camera 4K (BMD-CINECAMPOCHDMFT4K). The Blackmagic Pocket 4K gives you the professional features you need, all in a portable and affordable design that can be used anywhere. It's perfect for shooting independent films and documentaries, fashion shows, travel blogs, web videos, weddings, corporate video, sports and more.
The incredible image quality, advanced Blackmagic Design colour science and RAW recording features let you shoot images that rival professional digital film cameras costing tens of thousands more. That means you get the image quality you need to seamlessly mix footage from the Pocket Cinema Camera 4K with other types of cameras used on high end Hollywood feature films and episodic television shows. Including the new Pocket Cinema 6K, a camera that you can easily use on high end feature films.
Blackmagic Pocket Cinema Camera 4K features a 4/3″ sensor for capturing up to 4096 x 2160 DCI 4K images at rates up to 75 fps in a variety of codecs including Blackmagic Raw at several bit rates and various ProRes 422 options. With the 6.6 update, the BMPCC 4K now offers up to 80 fps in a 2.8K raw mode for 4:3 anamorphic and up to 75 fps in a 4K raw mode in 2.4:1 widescreen. A 2x de-squeeze preview is available for 4:3 recording as well as a 1.33x de-squeeze option. Slow-motion rates up to 120 fps are available in 2.6K raw for Super16 lenses and in cropped Full HD. The 6.6 update makes operating easier with support for the Pocket Battery Grip and a built-in horizon level function. Further 6.6 update features include support for additional languages, USB PTP control, customizable frame guides, an up to 8x pinch-to-zoom function, the ability to embed custom LUTs as metadata in Blackmagic Raw, and more.
The Micro Four Thirds lens mount accommodates the original, lightweight Pocket Cinema Camera lenses, and can be used with PL, C, EF, and other lenses with the use of separately available adapters. A dual-native ISO up to 25,600 is featured for low-light capture, and 13 stops of dynamic range provide rich HDR images.
Record using the internal CFast 2.0 and SD/UHS-II card slots or employ the USB Type-C output for capturing longer clips to an external drive. The Pocket Cinema Camera 4K's 5″ touchscreen LCD reduces the need for an external, onboard monitor, while a full-sized HDMI port enables you to output a signal to a larger display. The menu and interface are the same as the ones found on the URSA Mini camera, and 3D LUTs can be applied for monitoring or baking in your look when you're ready to commit.
Audio features include a mini-XLR input with phantom power for pro-style mics, a 3.5mm jack, and an internal stereo mic.
Comes With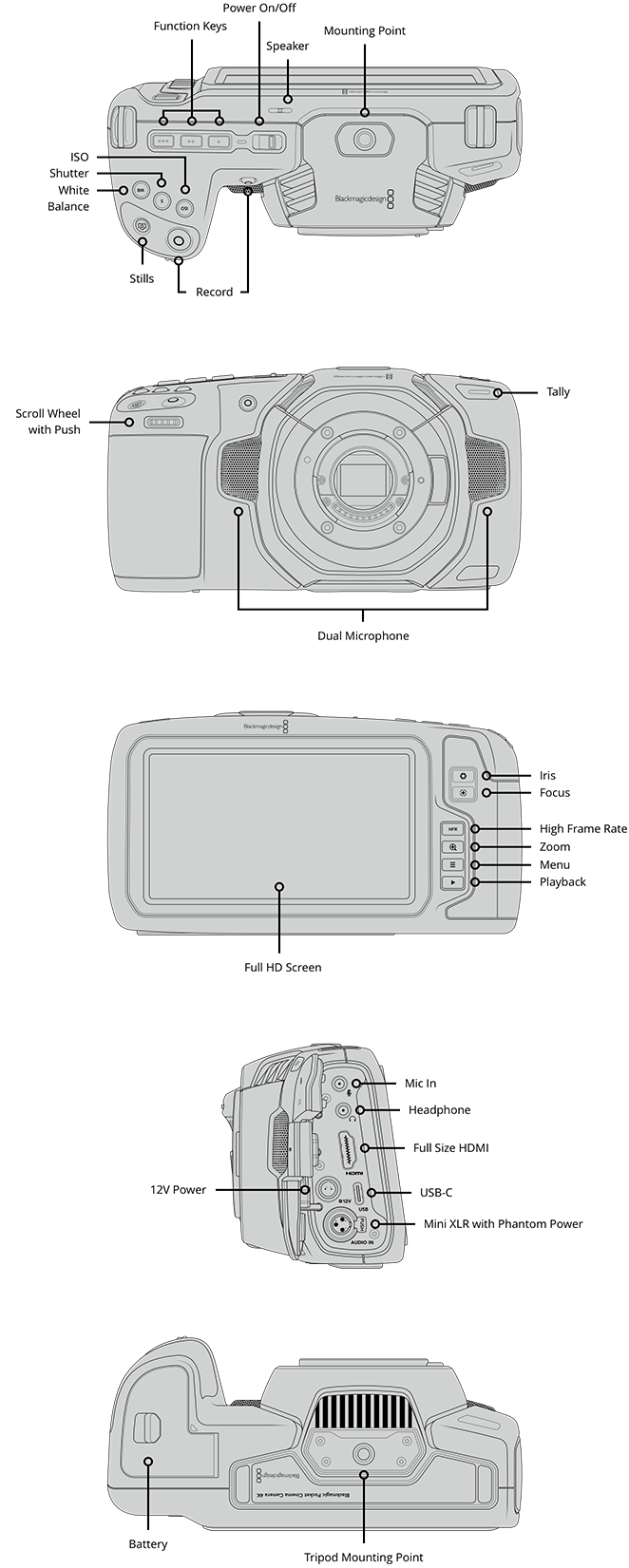 Blackmagic Pocket Cinema Camera 4K
Lens turret dust cap
30W power supply with locking connector and international adapters
LP‑E6 battery
SD card with software and manual
Welcome card
DaVinci Resolve Studio with activation key
Firmware update 6.6 please click here
Additional information
| | |
| --- | --- |
| BRAND | Blackmagic |
| SENSOR SIZE | |
Specification
Effective Sensor Size
18.96mm x 10mm (Four Thirds)
Lens Mount
Active MFT mount.
Lens Control
Iris, focus and zoom on supported lenses.
Dynamic Range
13 Stops
Dual Native ISO
400 and 3200
Shooting Resolutions
4096 x 2160 (4K DCI), 3840 x 2160 (Ultra HD), 1920 x 1080 (HD).
Frame Rates
Maximum sensor frame rate dependent on resolution and codec selected.
Project frame rates of 23.98, 24, 25, 29.97, 30, 50, 59.94 and 60 fps supported.
Off-speed frame rates up to 60 fps in 4K DCI, 120 fps in HD windowed.
Focus
Focus button turns on peaking, auto focus available using compatible lenses.
Iris Control
Iris wheel and touchscreen slider for manual iris adjustment on electronically controllable lenses,
iris button for instant auto iris settings on compatible lenses so no pixel is clipped in film mode.
Scene average auto exposure in video mode.
Screen Dimensions
5" 1920 x 1080.
Screen Type
LCD capacitive touchscreen.
Metadata Support
Automatically populated lens data from electronic Micro Four Thirds lenses.
Automatic recording of camera settings and slate data such as project, scene number, take and special notes.
Controls
Touchscreen menus on 5 inch screen. 1 x Power Switch, 1 x Record Button, 1 x Stills Button,
1 x Scroll Wheel with push integrated into handgrip, 1 x ISO Button, 1 x White Balance, 1 x Shutter Button,
3 x software configurable Fn buttons, 1 x High Frame Rate (HFR) Button, 1 x Zoom Button, 1 x Menu Button,
1 x Play Button, 1 x Focus Button and 1 x IRIS Button.
CONNECTIONS
Total Video Inputs
None.
Total Video Outputs
1 x HDMI Type A 1080
Analogue Audio Inputs
1 x mini XLR analog switchable between mic with phantom power support and line level (up to +14dBu).
1 x 3.5mm Stereo Input. Can also be used for Timecode input.
Analogue Audio Outputs
1 x 3.5mm headphone jack.
Computer Interface
USB Type-C for external drive recording, software updates and media download.
AUDIO
Microphone
Integrated stereo microphone.
Built in Speaker
1 x mono speaker.
STANDARDS
SD Video Standards
None.
HD Video Standards
1080p23.98, 1080p24, 1080p25, 1080p29.97, 1080p30, 1080p50, 1080p59.94, 1080p60.
Ultra HD Video Standards
2160p23.98, 2160p24, 2160p25, 2160p29.97, 2160p30, 2160p50, 2160p59.94, 2160p60.
4K DCI Standards
4KDCIp23.98, 4KDCIp24, 4KDCIp25, 4KDCIp29.97, 4KDCIp30, 4KDCIp50, 4KDCIp59.94, 4KDCIp60.
MEDIA
Media
1x CFast slot, 1x SD UHS-II card slot, 1x USB-C 3.1 Gen 1
Actual supported codec and frame rates are media dependent.
Media Format
Can format cards to ExFAT for Windows and Mac or HFS+ for Mac (file systems).
SUPPORTED CODECS
Codecs
Blackmagic RAW Constant Bitrate 3:1, Blackmagic RAW Constant Bitrate 5:1, Blackmagic RAW Constant Bitrate 8:1, Blackmagic RAW Constant Bitrate 12:1, Blackmagic RAW Constant Quality Q0, Blackmagic RAW Constant Quality Q5
ProRes 422 HQ QuickTime, ProRes 422 QuickTime, ProRes 422 LT QuickTime, ProRes 422 Proxy QuickTime.
STORAGE FEATURES
Storage Type
1x CFast 2.0
1x SD UHS-II card
1x USB-C 3.1 Gen 1
Storage Rates
4096 x 2160
Blackmagic RAW 3:1 – 135 MB/s
Blackmagic RAW 5:1 – 81 MB/s
Blackmagic RAW 8:1 – 51 MB/s
Blackmagic RAW 12:1 – 117.88 MB/s
Blackmagic RAW Q0 – 81 to 203 MB/s
Blackmagic RAW Q5 – 21 to 58 MB/s
Apple ProRes 422 HQ – 117.88 MB/s
Apple ProRes 422 – 78.63 MB/s
Apple ProRes 422 LT – 54.63 MB/s
Apple ProRes Proxy – 24.25 MB/s
3840 x 2160
Blackmagic RAW 3:1 – 127 MB/s
Blackmagic RAW 5:1 – 76 MB/s
Blackmagic RAW 8:1 – 48 MB/s
Blackmagic RAW 12:1 – 32 MB/s
Blackmagic RAW Q0 – 76 to 190 MB/s
Blackmagic RAW Q5 – 19 to 55 MB/s
Apple ProRes 422 HQ – 110 MB/s
Apple ProRes 422 – 73.6 MB/s
Apple ProRes 422 LT – 51 MB/s
Apple ProRes Proxy – 22.4 MB/s
1920 x 1080
Blackmagic RAW 3:1 – 33 MB/s
Blackmagic RAW 5:1 – 20 MB/s
Blackmagic RAW 8:1 – 13 MB/s
Blackmagic RAW 12:1 – 8 MB/s
Blackmagic RAW Q0 – 20 to 49 MB/s
Blackmagic RAW Q5 – 5 to 14 MB/s
Apple ProRes 422 HQ – 27.5 MB/s
Apple ProRes 422 – 18.4 MB/s
Apple ProRes 422 LT – 12.75 MB/s
Apple ProRes Proxy – 5.6 MB/s
Recording Formats
Blackmagic RAW Q0, Q5, 3:1, 5:1, 8:1 and 12:1 at 4096 x 2160, 3R0 and 1920 x 1080 with film, extended video or video dynamic range.
ProRes at 4096 x 2160, 3840 x 2160 and 1920 x 1080 with film, extended video or video dynamic range or custom 3D LUT.
SOFTWARE
Software Included
Pocket Cinema Camera 4K Operating System.
DaVinci Resolve Studio on SD Card.
Blackmagic Camera Setup.
Operating Systems
Mac OS 10.13 High Sierra, Mac 10.14 Mojave or later.
Windows 8.1 or Windows 10.
POWER REQUIREMENTS
Power Supply
1 x External 12V power supply.
External Power Input
1 x 2-pin locking connector.
Battery Type
Canon LP-E6.
Battery Life
Approximately 60 minutes
Power
12V-20V
PHYSICAL SPECIFICATIONS
Dimensions
7 x 3.4 x 3.8in
Dimensions
0.72kg (1.59lbs)
ENVIRONMENTAL
Operating Temperature
0 to 40°C (32 – 104°F)
Storage Temperature
-20 to 45°C (-4 to 113°F)
Relative Humidity
0% to 90% non-condensing
What's Included
1x Blackmagic Pocket Cinema Camera 4K
1x Battery
1x Lens Turret Dust Cap
1x 30W Power Supply with locking connector and international adapters
1x SD Card with software and manual
1x Welcome Card
1x DaVinci Resolve Studio with Activation Key